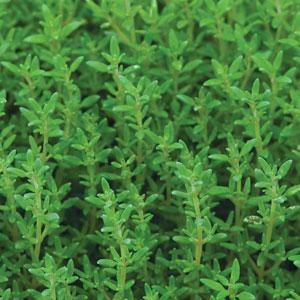 Scientific Name: Thymus vulgaris
Common Name: Thyme, Perennial Herb
Spacing: 6 - 8" (15 - 20cm)
Height: 12 - 18" (30 - 46cm)
Width: 18 - 20" (46 - 51cm)
Exposure: Sun
General Information: Thyme is easy to grow, shows attractive foliage and is one of the most useful herbs in the kitchen.
Harvesting is best mid-June through mid-July and leaves are used fresh or dried.
Thyme is excellent in patio or balcony containers and is virtually free of pests and disease.