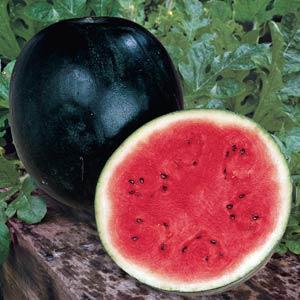 Scientific Name: Citrullus lanatus
Common Name: Watermelon
Spacing: 48 - 72" (122 - 183cm)
Height: 15 - 24" (38 - 61cm)
Width: 72 - 84" (183 - 213cm)
Exposure: Sun
General Information: Sugar Baby saves space in the garden and in the refrigerator.
The only thing oversized is its rich and incredibly sweet taste.
Its compact vines produce plenty of 6 to 10-lb. (3 to 4.5-kg) fruits packed with sweet red-orange flesh.
This variety is perfect for any small-space garden!
Pot Size: 3 inch pot