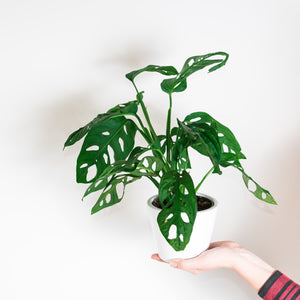 Monstera adansonii
A beautiful addition to any plant collection. Adansonii are recommended for intermediate to expert plant enthusiasts as they require a bit more attention. Vining, with unique hole-patterns in the leaves these plants are prolific growers. Easy to propagate.
LIGHT: Bright indirect. East West, or a few feet away from a South window
WATER: Allow to dry out only slightly in-between waterings. Water when top 1-2 inches of soil is dry.
GOOD TO KNOW: Support vines upwards using bamboo sticks or moss pole or vine along walls!