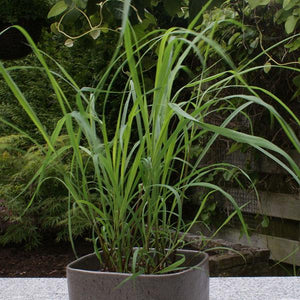 Scientific Name: Cymbopogon citratus
Common Name: Lemongrass
Fertilize: Every two weeks
Spacing: 18 - 24" (46 - 61cm)
Height: 36 - 60" (91 - 152cm)
Width: 24" (61cm)
General Information: Harvest stalks as soon as plants are 12 in. (30cm) tall and stem bases are at least 1/2-in. (1 cm) thick.
Cut off the top and peel the outer layer of the base, then chop the inner white, reedy part for stir fries, salads or sauces.
The leaves can be used to make a marinade or tea.
Scatter crushed used leaves in the grass along a patio or deck to deter insects.
Pot Size: 6 inch nursery pot