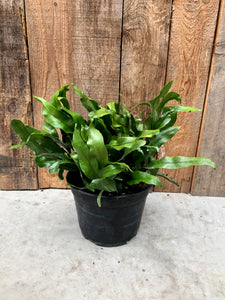 Zealandia pustulata
aka Kangaroo Fern
An epiphyte naturally grows in trees. Round elongated fronds, bluish-green colour. Relatively easy care.
LIGHT: Indirect/Medium-Bright, filtered light. West or East (direct) facing window.
WATER: Allow to dry out slightly (1-2") in between watering. Plant in well draining soil.
Good to Know: Offer regular humidity or mist as it absorbs moisture through both it's roots and fronds.
Ferns are non-toxic according to the ASPCA