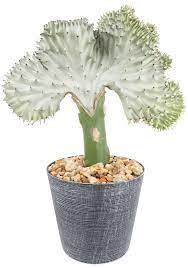 Rhipsalis cereuscula
 Despite its common name, the Coral Cactus is not a cactus at all but a grafted Euphorbia! A truly unique and interesting plant for any collection.
- Plant in well-draining, porous succulent soil
- Will do best if planted in a pot with a drainage hole.
- Provide plenty of bright to direct sunlight to help this plant stay colourful and compact.
- Water infrequently. This plant likes to dry out completely in between waterings so only water when the soil is bone-dry. Succulents are drought tolerant. It is safer to under water than over water.
- The sap of this plant is toxic to pets and humans alike with the potential to cause severe inflammation to the skin and eyes.