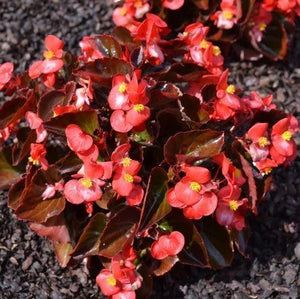 Scientific Name: Begonia semperflorens
Common Name: Begonia
Blooming Season: Late Spring, Summer, Autumn
Plant Habit: Mounded
Height: 8-10"
Width: 6-8"
Exposure: Sun to Partial Shade
General Information: 
Matching, early flowering, green and bronze leaf varieties, perfect for main season sales. Strong germination and seedling vigor to optimize production from sow to finish. Very early flowering with a narrow bloom window for quick turns and bench-run production. Compact, well-branched plants ideally sized for high density production in packs and small pots.
Pot size: Jumbo 6 pack